CAD-Line > Display Options tab
Use Display-Option tab to:
•Edit the color and transparency of an imported
•To Toggle the Show or Hide an imported
•To move an imported in the X, Y, and/or Z-axis directions.
---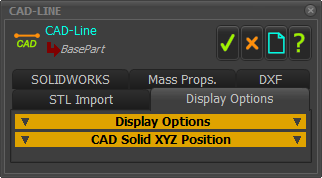 CAD-Line dialog > Display Options tab
---
Click the Show Solid check-box to show or hide the CAD-Solid that is on the CAD-Line.

Note: Enable Visibility toolbar > Show Solids in Mechanisms to show CAD-Solids in Mechanism-Editors

Drag the Transparency slider-bar to change the transparency of the CAD-Solid on the CAD-Line. Experiment!

Click the Solid Color button to open and edit the color of the CAD-Solid with the Windows® color picker,

Number of Vertices: (read-only)

Complex files have more vertices. MechDesigner may become slow to respond to new commands when there are many CAD-Solids, each with many Number-of-Vertices.

How many is too many? Try to make Number-of-Vertices < 10,000.

Experiment with the Fine, Coarse and Custom radio-buttons in the SOLIDWORKS tab.

See also: Top-Tips

Top Tips:

Make a new SOLIDWORKS Configuration if there are many features that add vertices for cosmetic reasons.

In the new configuration, reduce the number of vertices:

•Remove Fillets, cosmetic fillets.

•Use Chamfers to show model edges.

•Do not import models with balls in ball bearings!

•Make the model as simple as possible.
If the imported CAD-Solid is not in the correct place, you can move it in the X, Y, and Z-axis directions.

Note:

You can not rotate an imported CAD-Solid

You must rotate the CAD model in your CAD software before you import it.