Gearing FB
see Add Gearing FB
---
Use Gearing FB to transform motion-values* with a linear mathematical function. Open the Gearing FB dialog to edit the parameters in the mathematical function. The default parameters do not change the motion-values.
---
* Position, Velocity, and Acceleration, with Linear or Angular motion-units.
---
| | |
| --- | --- |
| | To open the Gearing FB dialog |
The Gearing FB dialog is now open.
---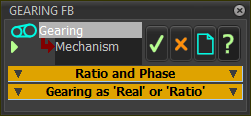 Gearing FB dialog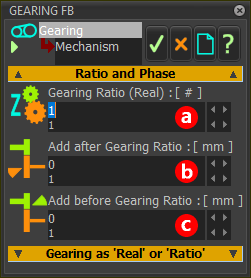 Ratio and Phase
Gearing Parameters

Gearing Ratio (See Gearing as 'Real' or 'Ratio' below)

Add after Gearing-Ratio

Add before Gearing-Ratio
The Gearing function
.
The Gearing FB function is:
Output = {

× (Input +

) } +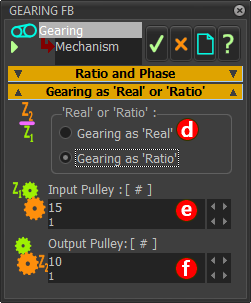 Ratio of Pulley Teeth
Enter the Gearing Ratio in one of two ways:

Gearing as 'Real'

Gearing as 'Ratio'
If Gearing as Real is enabled:

Gearing Ratio : ± Real Number - see above
If Gearing as Ratio is enabled:

Gearing Ratio =

Output-Pulley /

Input-Pulley
Enter

Input-Pulley : ± Integer, and 0
AND

Output-Pulley : + Integer
Example: