Function-Blocks: Wires and Connectors
Function-Blocks have connectors: input-connectors and/or output-connectors. You connect wires from an output-connector of a Function-Block to an input-connector of a different Function-Block.
The motion-data that flows through the wires and Kinematic Function-Blocks has three Data-Channels, The Data-Channels are Position, Velocity and Acceleration, with Linear or Angular motion-units.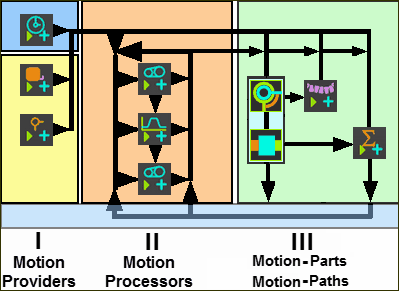 Schematic: Function-Block Wires and Connectors
The image above is a schematic of how you can add wires to connect Function-Blocks.
---
VIDEO : How to Connect Function-Blocks:
Video: How to Connect Funtion-Blocks
---
Data-Types of Motion Function-Blocks.
These Function-Blocks provide or process motion-data.
Linear-Motion FB
Output Data-Type = Rotary
---
Output Data-Type = Input Data-Type
---
Motion FB
Output Data-Type = Rotary or Linear
See Motion FB dialog
---
Output Data-Type = Input Data-Type
---
No output-connector
Input Data-Type = Rotary or Linear
---
Output Data-Type = Rotary or Linear
---
Output Data-Type = Rotary or Linear
Function-Blocks - their Data-Types and Data-Channels
Output-Connector from

Data Type

Data-Channel 1

Data-Channel 2

Data-Channel 3