The Display and User Interface
Notes:
MechDesigner can take longer than other applications to start. Also, you may need to click OK in a pop-up to allow MechDesigner to check its protection status.
When you start MechDesigner, you start a new project automatically.
If necessary, to display the MotionDesigner correctly, drag the vertical separator-bar

that is to the right of the graphic-area

to the left or right a small distance.
---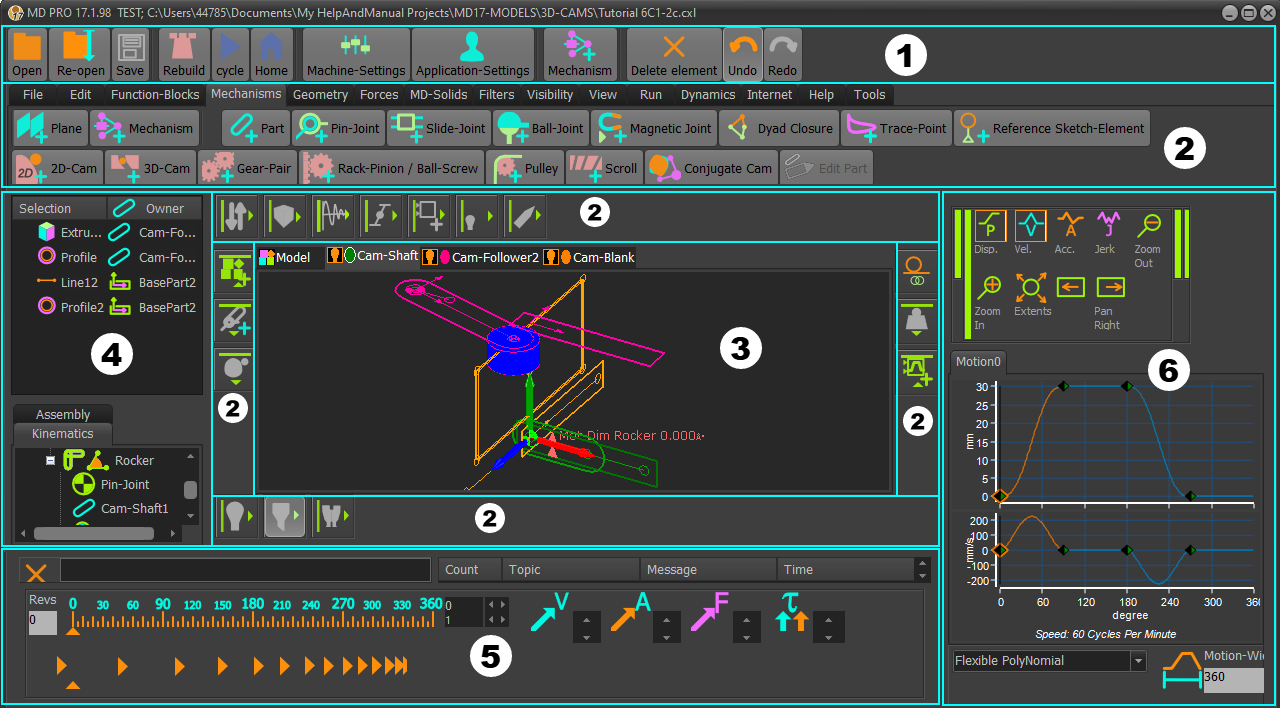 The interface above uses the Charcoal theme for borders, menus and command icons and the Dark style - see also Themes, Styles and Settings.
Main menu-bar & General toolbars

Menus and the General toolbars are above the graphic-area

General toolbars are always available. Toolbars are collapsed with you start MechDesigner.

See more: Menus and Toolbars

Model-Editor, Mechanism-Editor or Part-Editor

Editor-types and names

Model-Editor: the editor (and name-tab) you see when you start MechDesigner.

Mechanism-Editor: the editor to build kinematic-chains with Parts, Joints, belts, gears, cams, ...

Part-Editor: edit the length of Parts, and add geometry to position joints, and also to add shapes for extrusions

Workspace

Graphic-area: the main workspace where you build your model

Name-tabs: identify the name and editor type

Contextual toolbars: to the left, right and above the graphic-area

Project-Explorer

The Project-Explorer is to the left of the graphic-area.

It has three areas:

Selection-Window (top)

Command-Manager (middle)

Element-Explorer with two tabs (bottom)

Use the Selection-Window and Element-Explorer to select and edit elements.

Use the Command-Manager to do commands.

See more: Project-Explorer

Feedback-Area

The Feedback-Area is below the graphic-area.

It has these areas:

•Hints (read-only) - about a command, show when you move your mouse-pointer from an icon.

•Messages (read-only) - for example, a reason you cannot do a command.

•Sliders - Master-Machine-Angle and Animation -Spee

•Vector Scale Buttons: to change the length of Kinematic and Kinetostatic Vectors.

See more: Feedback-Area

MotionDesigner

MotionDesigner is to the right. Use Visibility toolbar > Dock / Float MotionDesigner to:

MotionDesigner has its own toolbars.

•Design an unlimited number of motions.

Use Motion FBs to link motions from MotionDesigner to Motion-Parts and Motion-Points.

See more: MotionDesigner and Getting Started Tutorials - MotionDesigner

Memo

The Memo shows each time you start MechDesigner, (unless you de-select the Automatically Open at Start check-box at the bottom of its dialog).

See more: Memo