CAD-Line
See also: Add CAD-Line, and About details.
---
There is one CAD-Line from the start-Point to end-Point of all Parts you add to the model.
You can use the Part-Editor to add CAD-Lines to a Part.
---
Use the CAD-Line dialog to:
•Import and display one(1)
•Display one(1) - to import the DXF-Drawing, do File menu > Open DXF-Drawing
•Import and/or edit user Mass-Properties
•Change how to display the CAD-Solid
---
How to open the CAD-Line dialog
Double-Click CAD-Line element in an Added-Part

To open the CAD-Line dialog

---

Note:

You can open the CAD-Line dialog from Mechanism-Editors AND the Part-Editor.
The CAD-Line dialog is now open - see below
---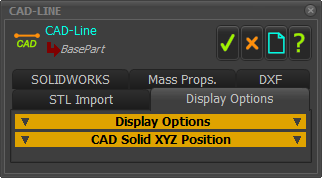 CAD-Line dialog
CAD-Line dialog tabs.