A Library-File is a model that you can import into the active model. Its file-type is LXL.
Generally, you import a Library File to save time.
The Import Library File interface - see below - links to the:
•Standard Library - those customers that choose Annual Support can download these models from our website.
•User Library - You can make a Library of your own - see Notes below
---
Small Warnings
•You cannot undo Import Library File. You can, however, delete its individual elements.
•If you Import a Library File immediately after you start MechDesigner, the model will not have a file-name.
Auto-save will start only after you save the model.
---
Import a Library File:
STEP 1: Click to preselect a Plane, or a Part, or Nothing
If you preselect (and the element in the Selection-Window) a:
•Plane - the Library file opens onto a new Mechanism-Editor that is added to the Plane
•Part (or Base-Part) - the Library fie opens onto the Part as a child to the Part - the Library file can be Geometry or a Kinematic model.
•Nothing - the Library fie opens and merges with the active Mechanism-Editor.
STEP 2: File toolbar > Import Library-File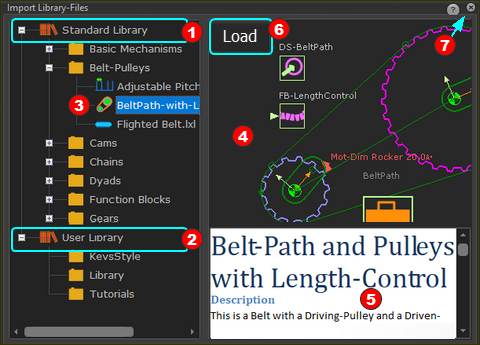 Import Library File interface
STEP 3: Browse to find Standard or a User Library file
When you click a Library file, you will see

A preview image of the Library-File

A description of the Library File and how to edit its parameters.
STEP 4: Click the Load button

---
Note: To add to your User Library
•Save a model as a Library File in the
To get the most from your User-Library, save these files in addition to the LXL file:
•LibraryFile.PNG - use File menu > Print > Save Image to save an image as a preview of the Library-File.
•LibraryFile.RTF - use Word®, for example, to describe the model and what to edit (usually with a Design-Set).
•LibraryFilename24.PNG - use an image-editor to make an image that is 24x24 pixels, with a transparent background (Note that the file-name is appended with 24.